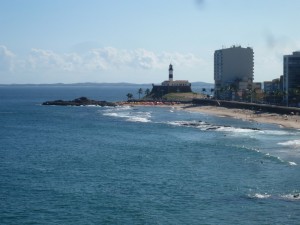 After Gloria do Goitá, we spent a week readjusting to modern life. We spent 4 days in Recife, working a lot and doing some sightseeing. We stayed with Dani and Victor, a very special 8-year-old, who taught us how to be children again! We played a lot: wrestling, running and exchanging football stickers!
Then, we went down to Salvador and arrived in Bahia. Ah, Bahia! Magical land of dreams, a paradise to all Mineiros… We visited old friends, Adhemar and his family, and let filled ourselves with that Bahian energy.
Salvador is, on one hand, a city like any other, with many urban problems such as pollution, sanitation, unemployment and poverty. Salvador also seemed not well cared for, it seemed dirtier and more neglected than the last times we had been there. However, the religious mich-mash, the music, its African heritage and the amazing coastal scenery make Salvador a very special place. It's always worth a visit!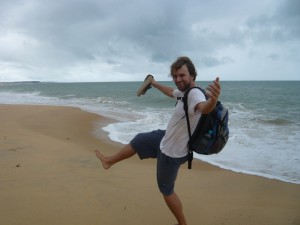 After Salvador, we headed to the South of Bahia. We chose Trancoso as our home base. Neither Stephan nor I knew this small town and it is geographically located in the middle of the places that we wanted to see in the region.

For those of you, who do not know the south of Bahia (or any part of the coast of Bahia, for that matter), this region is the representation of paradise in the imagination of most Brazilians from the South and Southeast regions. The image is of a region filled with natural beauty, many parties in the summer, a place of sensuality and relaxation. This image is confirmed specially in the summer.
Arriving there in the beginning of winter and at the end of our trip was quite interesting for us. The villages were empty and not so many parties were going on. However, all the villages we visited – Trancoso, Arraial D'Ajuda and Caraíva – maintained, to a higher or lower level, a substantial offer of good dining, nice places to stay and splendid nature.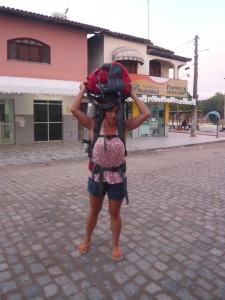 During our stay in Trancoso, we felt that winter was dawning on us as well. We were starting to miss a "normal" work routine. The time had come for us to put into practice all that we had learned and move on to a new stage of our lives.
But it didn't end right then and there, we were still missing one last learning experience. One of the reasons that we chose to stay in Trancoso was that it is close to Itabela. Itabela is where the Environmental Group Natureza Bela is located, an NGO that works with environmental conservation and promotes sustainable development in the region.
We spent our last day with them learning a lesson of hope and optimism. The "detour" to Itabela was longer than we had imagined and we almost gave up. We had to spend about 5 hours on the bus in order to talk with them only for a few hours, but meeting them made each kilometer of dirt road worth it. We'll tell you all that we learned with them in our next post, stay tuned!