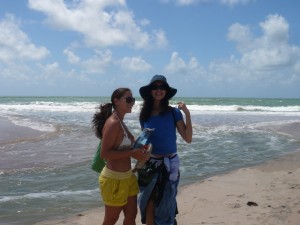 When Nanda and Stephan started to describe their "Suficiente" concept to me, I was already pretty impressed. We generally do not meet a lot of people who choose the principles by which they want to live. In addition, seeing that an ideal can be concretized is always surprising. And this is what they chose to do: have a lifestyle that follows their ideals. All still a bit abstract… until I receive an email from nanda: we bought land! And that easy to understand idea "we will build a pousada", had transformed into a reforestation project in the South of Paraiba. How I admire my adventurous friends! I simply had to go there and check out this undertaking personally!
In April I would have a week off of school and could – why not? – zip to Paraiba. The naturist beach of Tambaba intrigued me. The photos of the cliffs convinced me to travel. So off I went to meet up with my friends!
Let me say up front that I ended up not going to the naturist beach. Rather quickly, I concluded that I am very well adapted to our clothed society. Nonetheless, Nanda and I got quite close to the beach… to turn around and walk a couple of kilometers along the neighboring beach.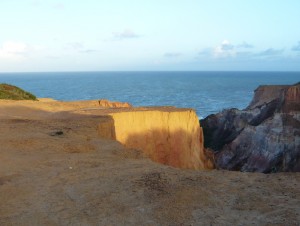 The most I had known of the Northeast was Bahia. Let me tell you how beautiful the South of Paraiba is. I was amazed. The sea is of a clear green and calm, the cliffs are really wonderful, of an intense orange – and there are no food stands on the beach! The beaches are deserted and clean, and silence and calm reign. Only in Coqueirinho there are a few food stands. For those who cannot survive without a beer or at least coconut water, there is the Art Bar close to the mangrove of Tabatinga. It is so well integrated into the surroundings that it is hard to notice – and when you enter the place, there are sculptures and paintings creating a really cool atmosphere.
The Art Residence of the new friends of Stephan and Nanda is a chapter by itself: it is one of 4 houses in Tambaba, on a large lot surrounded by illustrated walls, with a planned and enchanted garden. The silence of not having any neighbors – only the green that covers the stretch of sea on the horizon – is precious. And it is in this area that Stephan and Nanda plan to build a residence. We walked along the earth roads until we got to the brink of the cliffs and witnessed a real show. The cliffs frame the sea, covered with silver, and there is an enormous moon in front of us. It seems a virtual reality (without photoshop!) but we feel a salty and fresh breeze hitting our faces.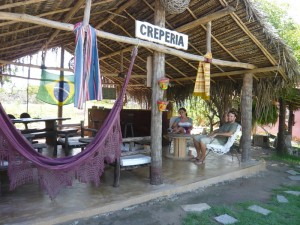 We stayed in a pousada in Tabatinga, quite close to Tambaba. In the crêperie of the pousada, I had the best crêpes in a long time, accompanied by the funny stories of the owners, by laughter, and the liberty of the kids that live there.
On the weekend, we met very nice guests from Recife and Campina Grande. All, without exception, were very happy and friendly. This called my attention, because I am used to the asphalt of Belo Horizonte and had forgotten that Brazilians have to reputation of being an friendly people.
We also met with members of the Rural Workers Association of Tambaba. The story of these families who are trying to live from family agriculture and are fighting for years for the ownership of the land they live on, marked me. It is a real community, with a bitter trajectory, similar to the stories of many Brazilians. Will there be justice?
One thing that had to happen was an inauguration party of Nanda and Stephan's land. It was a picnic with new friends – since these 2 are sociable they already – after a short time – have a group of friends! There they were the nice house, the lush native forest, the promise of a future…
I am very grateful to these precious friends for the opportunity to live this experience and to share the construction of this project with them. I am reminded of one of my favorite quotes by Joseph Campbell, which has accompanied me and was never truer: "If you follow your bliss, you put yourself on a kind of track that has been there all the while, waiting for you, and the life that you ought to be living is the one you are living. Wherever you are — if you are following your bliss, you are enjoying that refreshment, that life within you, all the time."
Leísa Amaral