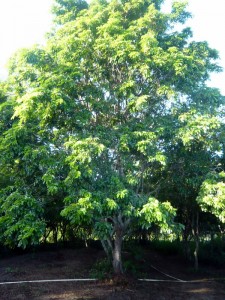 On the final weekend of April we visited the National Pau Brazil Foundation (FUNBRASIL) in Glória do Goitá, Pernambuco. We got to know about the foundation through a friend we met in Tambaba, Marisa. We had shared our dream to work with reforestation with her, and she told us that we had a lot to learn from Ana Cristina, the current President of FUNBRASIL.
She was right. Ana Cristina, a women with a strong personality and a heart full of solidarity, received us in her house and told us about the story of FUNBRASIL and its current challenges. She also gave us the opportunity to get to know the Pau Brasil tree (also known as Brazil wood or Pernambuco), the national tree that inspired the name of our country and turned us into Brazilians.
We did all this in the midst of good food (bacalhau, free-range chicken, pumpkin farofa, etc.) good conversation and good music. We listened to Forró Pé de Serra (music style from the interior of the Northeast) and even got to be part of a real festival of forró accordionists! Wonderful!
But let's go back to FUNBRASIL. FUNBRASIL is a result of the passion of Ana Cristina's father, Professor Roldão. Considered by many the Pau-Brasil apostle, he dedicated his life to protecting this tree. In 1970, he started a movement to defend the Pau-Brasil that was hosted 2 years later by the Federal Rural University of Pernambuco (UFRPE). The movement gained strength and in 1978, managed to have the Pau-Brasil recognized as national tree through a federal law. FUNBRASIL is a consequence of this movement.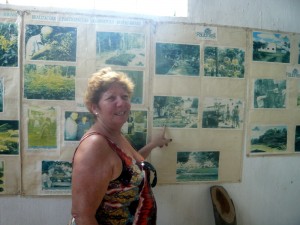 The foundation, created in 1988, produces seedlings of Pau-Brasil and other native Atlantic Forest tree species (with a capacity of 150.000/200.000 per year), promotes reforestation and environmental education and offers practical knowledge on the Pau-Brasil from geography, history, and ecology. On the campus of FUNBRASIL there is a permanent memorial of the Pau-Brasil, and you can go on ecological hikes between native trees and get to know the historical and cultural Pau-Brasil trail.
While we enjoyed all these activities, Ana Cristina shared some important lessons about reforestation with us that she had learned from her father and in her daily work. The first one is the importance of practical knowledge about the prime material of this work. More than once, she told us that to know how to reforest, "the important thing is the plant."
With this sentence that seems so obvious, she is criticizing the amount of resources put into discussions about policies, models and the organization of conferences, as opposed to the resources invested in learning about the plants themselves. She calls for the necessity of producing and disseminating knowledge about things like the best techniques to collect seeds, the period of germination for different species, or the best period in the year to plant seedlings, etc., etc.
Learning more about the plants is very advantageous for those wanting to preserve, as it can lead to more efficiency in terms of time and the amount of plants that are able to reach maturity in reforestation projects.  It may also help to find answers to turn preservation economically viable.
After several years of work with the Pau-Brasil, for example, FUNBRASIL discovered that a specific type of Pau-Brasil develops his core much faster than others. This species can already be used at 17 years of age (an not with more than 30 as was thought) for the production of violin arches, one of the main reasons for its exploration.
Another lesson we learned from Ana Cristina is the importance of establishing a direct relation with nature, especially for children, to become aware of the necessity to protect. She likes to remind her students that currently "we behave like children taken care of by their parents (the trees), who clean their diapers and give them food, and when they grow up they turn around and kill their parents" and that we have to change that.
Since the death of Prof. Roldão, FUNBRASIL is confronting difficulties to maintain their work alive. Many long-time partners connected the existence of FUNBRASIL to Prof. Roldão and stopped supporting his work after his death. Besides this, many resources invested in FUNBRASIL for the defense of the Pau-Brasil came from the monthly income of the professor and are not available anymore.
The quest for resources is difficult due to the public sector bureaucracy and the lack of human resources to help with bureaucratic issues. Despite all these challenges, we left FUNBRASIL with the certainty that the foundation is home to an enormous capital that has to be valued and used. This foundation has the technical knowledge and capacity to produce thousands of seedlings of Pau-Brasil, Aroeira, Cajá, Ipê, Ingá, Pau-de-Jangada and other 30 types of native Atlantic Forest trees.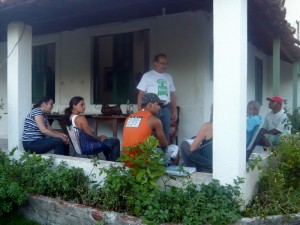 The challenges the foundation has to face next, include getting out of the isolation it find itself in currently, and finding partners other than the public sector. These partnerships can promote its integration into the electronic world and into the new market of life that is emerging with stricter environmental legislation and an increased awareness for the necessity to preserve.
The seedlings of native trees are available to companies and individual who want to or need to reforest. If you are interested in buying seedlings or seeds of Pau-Brasil or other rare species of the Atlantic Forest, or if you want to support or get to know or support the foundation, get in touch with Ana Cristina by email (funbrasil [at] yahoo.com.br) or by phone ((081) 9909 2934).
"Nature is anti-capitalist because she invests the maximum, over a long period of time, so that at least one individual can survive. Capitalism, by contrast, requires to invest the least possible, in as little time as possible, to obtain the biggest return possible."
More information: