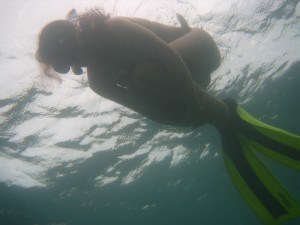 Everyone turns a bit into a fish when they're in Fernando de Noronha. Believe it or not, I spent the end of our last day on the beach in this island with my legs between my arms, just floating on the water and drifting off with the waves' lullaby. That's right: that sub-aquatic world was so comfortable that it seemed natural for me to rest right there!
Fernando de Noronha is an archipelago made up of 21 islands, 525km from Recife and 350km from Natal. 70% of it is under protection by the Fernando de Noronha National Marine Park. The other 30% is regulated as an Area of Environmental Protection, in accordance with Brazilian laws. UNESCO declared the archipelago a world natural heritage site in 2002 due to its large biodiversity. Fernando de Noronha is also considered one of the best diving spots in the world, with crystal waters that allow for up to 50m of visibility.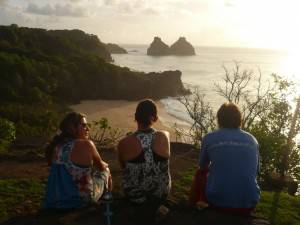 The island's scenery is in fact beautiful, but not that much different from what can be seen in other areas of preservation. However, what makes this place so special is that here it is quite easy to unravel some of the mystery of marine life. In addition to incredible sub-aquatic landscapes with many colorful corals, the animals feel at ease in our company and often approach the divers, curious to find out who are these alien creatures with diving masks. Maybe, because they are under protection, they have grown used to socializing with humans.
We spent a week here, along with my mother and my brother, Daniel. It was a wonderful week during which we saw living and breathing ornamental fish (more than 13 types), two types of rays, baby sharks, marine turtles of different sizes and spinner dolphins! Not to mention the colored corals, white urchins and seaweed that form a marine forest, which allows for the birth and growth of all these life forms.
As our family was with us, we did almost all the outings available. Dona Patrícia, my mother, put on her safari outfit and didn't hesitate a bit in taking part in all of the adventures: she almost turned into a guppy!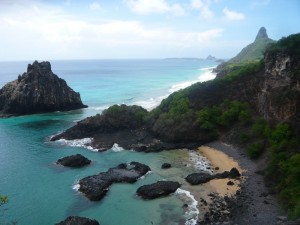 During our tour of the island ("Ilha-tur"), we saw in one single day three beaches that are considered the most beautiful in Brazil, according to the list by the "4 Rodas" Guide: Sancho Beach, "Baía dos Porcos" (Pigs' Bay) and "Praia do Leão" (Lion's Beach). We also went to several other parts of the island and were overwhelmed with the beauty of its design and the water's clarity and visibility.
We also went hiking on the Caeira – Atalaia trail in the National Marine Park. Here we swam in three natural pools, nurseries of ornamental fish that are formed when the tide is low. It's indescribable!
On our boat ride in the inside sea (the side of the island facing Brazil) we saw many spinner dolphins that played with us and the water and then we went on a sub ride, which is a small board that is pulled by the boat and allows to dive several meters without much effort. A lot of fun!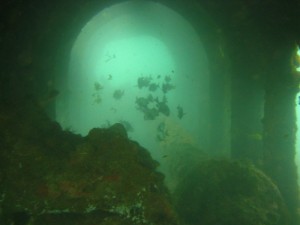 We went to some lectures presented by the Tamar project and found out many interesting aspects of the island's geological and social-political history, as well as of the formation of Fernando de Noronha National Marine Park. The island is a volcanic formation and, in the past, was occupied by the Dutch, the French and the Portuguese. It has served as a prison and a military base and in 1988 the National Marine Park was created. Currently, it is an area of preservation.
For us, there is no doubt that Fernando de Noronha deserves the reputation that it holds! During this week, in which we were closer to Africa than to São Paulo, we had unprecedented access to marine life. Places like Fernando de Noronha make it impossible not to fall in love with Earth's savior faire and its uncountable expressions of life!