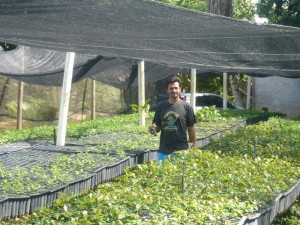 After Tambaba we decided to narrow down the kind of examples that we wanted to see. We focused on groups and people that work to protect what is left of the Atlantic Forest, while also contributing to generate income for the families that live in the surrounding areas that are to be protected and restored.
We wrote to several organizations in the Northeast and that was how we got in touch with Ana Cristina from Pau-Brasil Foundation at Glória do Goitá, David from Santuário Ecológico in Pipa; and finally the Environmental Group "Natureza Bela".
From the very first email, Natureza Bela received us with open arms and were very willing to share their story and challenges with us.
When we arrived at Trancoso, we realized that Itabela, the city where Natureza Bela is located, was not as close as we imagined. We started to question whether it would really be worth going there:  "Why not just spend a last romantic day on the beach in the South of Bahia?"
Simply because we still had a lot to learn, we decided that yes, we were going to get up at 5:00 am and spend several hours on a bus on our last day of the trip. It was really worth it! The work presented to us by Deivison Viana, Geisa Bonfim Berte, Alexssandro Gonçalves dos Santos and Sidvaldo de Oliveira filled us with hope and optimism.
The Environmental Group "Natureza Bela" has found ways to overcome their challenges and since its creation in 2001 has been implementing more and more projects, contributing to the protection of the environment and generating income for local communities in the Southernmost part of Bahia. Its main strategy is perseverance, cooperation with other organizations and a combination of young people working alongside others with more experience.
The organization is located in Itabela, a city with a population of around 25 thousand people that was founded around 1960 to harbor the major lumbermills that installed themselves in that region. These companies came in response to incentives for deforestation and urban development of the region by the Federal Government at the time. The Atlantic Forest remained almost intact until 1940 but intense wood exploration for more than 20 years reduced it to around 7% of the initial territory.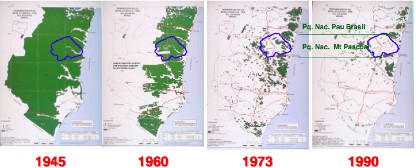 Attempting to preserve what was left and restore what was destroyed, in 2001, the biologist José Francisco Azevedo Jr., Gilson dos Santos Gali, Sidvaldo de Oliveira and others got together and decided to form the Environmental Group "Natureza Bela". Ever since it was founded, Natureza Bela has contributed to effectively preserve and restore natural resources, in addition to promoting environmental awareness, empowering citizens and generating income in the Monte Pascoal – Pau-Brasil Ecological Corridor.
It wasn't easy. Their first project was not an immediate success. Natureza Bela proposed that a City Park be created in order to preserve around 600 hectares of Atlantic Forest in medium and advanced stages of recovery. Local politics kept the project from being implemented as initially planned, but it resulted in the creation of the first native tree nursery managed by the group, as well as the creation of two Private Natural Protection Reserves (RPPN) and environmental involvement of the region's population.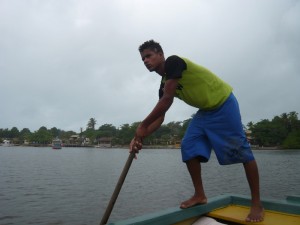 The know-how acquired with the production of seedlings in this period and the ability to network with owners of rural properties and the local population allowed Natureza Bela to co-manage a project to recover the Atlantic Forest and protect the waters of the Caraíva River Basin, along with Instituto Cidade and the Association of Natives from Caraíva (ANAC). In addition to these lead organzations, the project also relied on help form several other institutions, among which were Instituto Bio-Atlântica, Conservation International Brazil (CI-Brasil) and The Nature Conservancy (TNC).
This project not only created the basis for the recovery process of the Atlantic Forest in the ecologic corridor of Monte Pascoal – Pau-Brasil, but also had two other vital results: the creation of Cooplantar – a cooperative of reforestation workers of the Atlantic Forest in Southernmost Bahia – and the fomalization of a partnership of environmental organizations to jointly implement projects.
Cooplantar is a cooperative that specializes in the restoration of the Atlantic Forest, offering an important alternative for income generation for poor families in the region. Natureza Bela and its partners train the over 20 members of the coop, which live in the villages of Caraíva, Nova Caraíva and Itabela. The coop members have had courses on seed collection, planting techniques, managing cooperatives and others. This leads to an improvement in the lives of the coop members, while providing Natureza Bela and its partners with professional reforestation services and better results in their projects in the region.
Natureza Bela and their partners also try to assure a steady demand for Cooplantar's services, whether by hiring it for its own projects or referring them to other institutions that need or wish to reforest.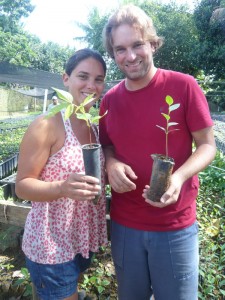 Cooplantar is, for us, a clear example of how poverty and environmental destruction can be fought at the same time. Geisa told us that the current president of the coop used to work in wood extraction and now plants for a living; some other coop members stopped hunting animals and now search for seeds, selling them to Natureza Bela's nurseries; and many others have found an economic activity in the cooperative that can be carried out in the low tourism season, generating additional income for them and their families.
At the same time, the implementation of the Caraíva project proved that cooperation between the environmental organizations of the region leads to a much better result than individual work and competing for the same resources. As a consequence, Natureza Bela and seven other organizations: ANAC, Cooplantar, Associação Comunitária Beneficente de Nova Caraíva (ASCBENC), TNC, CI-Brazil, Instituto Bioatlântica and Instituto Cidade formed a partnership to jointly seek funding and implement projects in the region of the Monte Pascoal – Pau-Brasil ecologic corridor.
Each organization has its role in this joint-venture defined according to its comparative advantage. Natureza Bela distinguishes itself by its ability to network with the local community and owners of rural properties and it capacity to produce seedlings. By joining the partnership, Natureza Bela overcame some challenges such as access to funding and distribution of the produced seedlings.
After the joint-venture was created, not only was there an increase in the funds available for implementing projects, but these projects also became more sophisticated. This joint-venture was the first carbon sequestration project via reforestation in Latin America certified by the Climate, Community and Biodiversity Alliance (CCBA).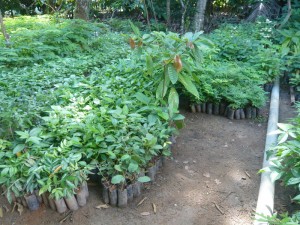 The project seeks to sequester 280,000 tons of CO2 over 30 years in an area of 800 hectares through the recuperation of native forests. It measures success through climate and biodiversity criteria, but also by bringing social and economic benefits to the communities. Corporations such as Natura Cosméticos and Kraft Foods Inc. have already bought part of the rights to use the CO2 to be recovered in 30 years, making the project economically viable.
Knowledge exchange with their partners, along with practical experience has taught them how to increase demand for the seedlings produced in Natureza Bela's nursery. According to Sidvaldo, there is a demand outside of the projects carried out by the partnership, which comes from three main sources: a) companies / organizations with environmental liabilities due to obligations under the environmental laws; b) owners of rural properties interested keeping their legal reserves in good standing in order to obtain agricultural loans granted by state, national and international banks; and c) companies interested in the emerging carbon market.
In order to meet the increase in the demand for native seedlings, Natureza Bela currently manages 3 nurseries, each one with the productive capacity of 200,000 seedlings per year, from 72 types of native Atlantic Forest trees. It is expected for production to reach 3 million seedlings from 80 types of native species per year by 2012.
Natureza Bela is also in charge of several social, cultural, and educational activities that promote environmental awareness and alternatives for income generation. These activities include drama, crafts and dance classes, as well as managing one of Bahia's Cultural Spots. One of their plays "Quando a Natureza é Bela" (When nature is beautiful, a play of words with the organization's name) was so successful that it lead to the production of a comic book dealing with the same theme. These fun comic books are available for free on Natureza Bela's website.
To us, Natureza Bela is an example of success. Over its nine years, it has gone from four volunteers to 10 employees and 22 volunteers and increased significantly its seedling production and the social and environmental impact of its projects.
The key to its success is cooperation. Whether cooperation with other partners, of young volunteers with more experienced people in the organization, or promoting cooperation between mankind and nature. To us, there is no doubt: when it comes to promoting collective well-being, 1 + 1 always equals more than 2!